Intro
History
Reviews
Video
Audio
Photos
Credits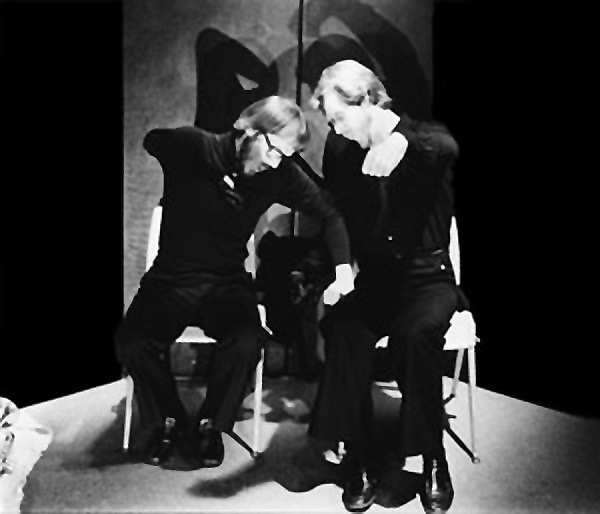 Harkins & Larson [THE] History
1972 - 1981
| | |
| --- | --- |
| Ed Harkins and Philip Larson met in 1972 on an Illinois golf course on their way to the Center for Music Experiment (CME), a Rockefeller supported Research Unit at the University of California, San Diego (UCSD). They already had careers in music. Harkins had a PhD in composition and was known primarily as a new music trumpet player who had previously taught at the New England Conservatory. Larson was a classically trained bass-baritone known primarily as a new music vocalist who performed for many years with Kenneth Gaburo's New Music Choral Ensembles. See their personal biographies here: Ed Harkins & Philip Larson. They were both CME Fellows for several years and later became Professors in the UCSD Music Department. | |
In 1973 they began working together in the Extended Vocal Techniques Ensemble (EVT). The ensemble had various incarnations eventually settling on a quartet including Deborah Kavasch and Linda Vickerman. They traveled and performed together for ten years.
During the 2-year period from 1973 to 1974 EVT improvised, recorded a lexicon, listened to much world music and did a few demo/concerts.
| | |
| --- | --- |
| | CME's in-residence guest in 1975 was Ed Emshwiller from the California Institute of the Arts. Harkins and Larson had similar aesthetic predilections and decided to contribute something to Emshwiller's composition. This was the first piece by them as a duo - a handshake (a short excerpt of which appears in one of the videos). |
In 1976 EVT did its first European tour. This was the one year that Bill Brooks substituted for Philip Larson.
| | |
| --- | --- |
| By 1977 EVT had an established repertoire and did another tour of Europe now adding Scandinavia. This tour included the Holland Festival in Amsterdam. In preparation for these performances Harkins and Larson looked for a new not solely-vocal piece. They chose a Pauline Oliveros work entitled "Five for Trumpet and Dancer." Though Philip was not a dancer it was an intriguing set-up. In the middle of this sparse piece was an instruction "continue improvising. accelerate to a frenzy". They knew this would be a problematic section and began working there. This quickly became a large part of the piece. This composition was premiered in Amsterdam in 1977. | |
| | |
| --- | --- |
| | On return to the U.S. they performed the piece for Pauline who had not previously seen it. They then mutually agreed this was no longer an Oliveros piece and it became "Piece for Trumpet and Dancer" (T & D) by Harkins and Larson. In reality it was a piece for trumpet and narrator - both also being "dancers". The outer parts were eventually deleted and the middle section was further developed. Over the next five years EVT continued to perform at major universities and conservatories including Canadian venues in Vancouver, Toronto and Montreal, their repertoire now including T&D. |
| | |
| --- | --- |
| In 1978 they received a California Arts Council grant to do a piece with the filmmaker George Manupelli (golf in the desert). Also that year Harkins gave a recital that included THE material. After the recital they began thinking of a duo outside of EVT and in late '78 officially became Harkins & Larson [THE]. Their art was quite unique at the time. Before viewing the videos it is recommended that you read a selection of their reviews and quotes which will give one an idea of their aesthetic attitude and impact. | |
| | |
| --- | --- |
| | In 1979 they began doing "THE" performances, one of the first at a theatre series in Seattle called the Floating Theatre, directed by Arne Zaslov. That year they also performed at the Paris Autumne Festival and at a festival at the California Institute for the Arts - the first of several performances there. Their initial repertoire included pieces by others including "Kryl" by Robert Erickson, "The Palace" by Roger Reynolds, "Only You" by Ed London, a Bach excerpt from Cantata 43, "Finger Rings", a piano solo for trumpeters by Harkins and "Pastoral" by David Evan Jones. |
After their first success they began a second piece entitled "Piece for Tape and Dancer" or "Ford," between 1980 and 1981. THE usually performed in a new-music or theatrical context. Their pieces gradually grew, not only in length but also with props, movement, taped examples, electronic gear, lighting, etc. Soon they needed a stage manager/lighting designer - Alan Johnson. Twice during this period they performed at Arcosanti, a futuristic city built in the Arizona desert, designed by Paolo Soleri.
1982 - 1987
| | |
| --- | --- |
| | In 1982 they added Bonnie Turpin as agent and photographer. Their "Voldy," a consolidation of pieces, was performed at the New Music America Festival in Chicago, at the California Arts festival (where they first met John Cage), and at "New Music Concerts" in Toronto. |
| | |
| --- | --- |
| In 1983 Harkins and Larson were the principal performers at the Music Today Festival in Tokyo, Toru Takemitsu, director. Here they did the world premier of a composition written for them by Joji Yuasa - "Observations on Weather Forecasts". They also had special performance chairs built. Additionally, in 1983 they began doing a piece they refer to as "Knees", which is an elaboration of a Kenneth Gaburo idea. Their performance at the Los Angeles "Explorations," series was the first performance at which they performed their own compositions exclusively. Also in 1983, EVT disbanded after 10 years together. | |
THE received an NEA grant to do a collaboration with John Cage and Toru Takemitsu in 1986. This piece became a part of Pacific Ring Festival at UCSD, organized by Roger Reynolds. Later that year they received an Asian Cultural Council award to perform at the Tadashi Suzuki Theatre Festival in Japan.
In 1987 THE received an NEA grant to do a collaboration with Anthony Braxton. They now felt that their concerts were becoming too large - not just in length but also with electronics, lighting, fog, lasers, stage hands, etc. so they took a break from performing for a few months.
1988 - 1996
| | |
| --- | --- |
| In 1988 the UCSD Music Department was featured at the Darmstadt Ferienkurse at which Harkins and Larson [THE] performed a new simpler, scaled-down piece. | |
In 1989 they began a new compositional chapter with talking - even lecturing - as an integral part of their performance. The first performances of this new material were presented on an Australian tour as well as in New York City in 1990. However, by 1994 THE began performing and travelling less frequently.
| | |
| --- | --- |
| | In 1995 they did a collaboration with computer/graphic artist Vibeke Sorensen. This video piece was entitled "Panini Stickers," and was shown at Siggraph in LA in 1995. Over the next several years it was shown many times including in Rio de Janeiro, Madrid, and Copenhagen. |
| | |
| --- | --- |
| The following year THE did a live performance of "Panini Stickers" in Rotterdam as part of the ISEA conference. Also in 1996 they officiated at the first of several weddings over the next few years. | |
1997 - 2010
| | |
| --- | --- |
| | Betwen 1997 and 2007 their performances were mostly regional. In 2007 THE performed at a concert celebrating Ed Harkins' retirement from UCSD. In 2009 Harkins and Larson performed a new compact piece for the opening of the Conrad Prebys Music Center at the University of California, San Diego. |
| | |
| --- | --- |
| This website exists to show what Harkins and Larson did and when they did it. Because of the technology of the period the quality of the videos is not always optimum. Each of the 31 videos are on average 6 minutes long, and consist of excerpts from 1-5 pieces. | |
[THE] Reviews 1977 - 2009
"[THE] has left a trail of laughter-choked onlookers and punctured behavioral conventions. . .[THE] was in its usual surreal, intangible, absurd, enchanting groove, the two kick apart some of our most sacred cultural cliches. unbridled, intellectual chaos. The art is subtle, but devastating, indescribably wonderful." - CALIFORNIA MAGAZINE

"The piece was often very funny; but to emphasize its zaniness would be to underrate its qualities of strikingly imaginative (and sometimes sparely delicate) invention. . .a hybrid of the performance-theater of Robert Wilson, the humor of Monty Python. . .and the static, gravely ritualistic theater of the far East." - LONDON FINANCIAL TIMES

"[THE] exerted the power of the artist over the raw materials of existence. If we didn't know what they were doing, they certainly did. But to what end? Perhaps to show that form or control is everything and content nothing, or that we are too preoccupied with the pursuit of meaning to enjoy the chaotic experience of our senses...[They are] virtuosos of the non sequitur. Come to think of it, they were virtuosos in the usual sense as well." - TORONTO

"There are times when an inscrutable performance is more valuable than one that is easily understood. . .few recent cultural experiences have borne out this notion as well as last night's appearance of [THE]. . .very Cageian, as in the sensation that at any moment almost anything can happen... a triumph of aural atmosphere. Harkins and Larson ingeniously manipulated technology and matched the sounds to the hall. Reverberation and stereo effects were stunning and the sequences of live versus taped music were seamless." - LOUISVILLE

"The joyful gentlemen of the troupe laid claim to the honorary title of America's hope in anxious days." - AMSTERDAM

"Sheer manic delight. [THE] ridicules our most cherished assumptions about artistic statement ..Monty Python, meet Dada. CHICAGO

"Had John Cleese and Eric Idle left Monty Python to devote their careers to performing Stockhausen. . .they couldn't have been much funnier than [THE]. ...but if you didn't know to look for some underlying abstraction, you'd think Larson and Harkins were simply possessed by identical demons, trying to fight their way out of their bodies." -The Village Voice, NEW YORK

"...a wonderfully bizarre sequence that was more of a dance than anything else ... it sounded interesting ... it looked utterly fascinating ... A slick show delivered with extraordinary panache ... stimulating in countless ways, many of which touched the viewer's brain as well as his funny bone." - ST. LOUIS

"The breadth of their repertoire is astonishing." - TOKYO, JAPAN

"As zany as Monty Python, as surreal as the receiving room at Belleview, the absurdity of life neatly skewered." - VANCOUVER

"Looking for all the world like computer salesman who last cracked a smile in 1977, I was laughing myself silly within two minutes ... this performance duo entertained and enthralled a packed house for an hour and a half ... beneath all the mirth [THE] seemed to be making some very valid points about what music is and also what communication is." - PERTH, AUSTRALIA

"Like Cheech and Chong playing Dr. Strangelove." - LOS ANGELES

"[THE] presents something new ... plays which can only be accomplished by well-trained musicians ... I was very attracted to their broad perspectives and their world of well controlled intelligence and nonsenses." - TOKYO

"[THE] is utterly original and falls into no easy category. It is a performance art involving extended vocal techniques, highly choreographed movement, spoken text, and, often, dramatic elements like props, costumes, and lighting. Though brimming with high spirits, absurdist humor, and virtuosity, it is also an investigation and a discourse, sometimes affectionate, sometimes satiric, of popular, jazz, and contemporary musics and their intersections, the avant-garde, the uses and misuses of extended musical techniques, and academia in general. These brilliant, original gems could never be performed by anyone other than their creators, composed to showcase their unique sets of abilities as well as their musical and intellectual concerns. Carefully thought through, impeccably rehearsed, yet spontaneous, [THE] performances were intended as ephemeral events - and were memorable for those lucky enough to see them." - STEVEN SCHICK

"Vaudevillians of the avant-garde, Dada darlings who are, in an unorthodox way, brilliant." - SAN DIEGO

"...irrepressible musical raconteurs Edwin Harkins and Philip Larson ... who are collectively known as [THE], mixed a wonderfully Dadaist sense of humor with skewed performance art and carefully selected recorded excerpts." - SAN DIEGO

"A series of musical satires that lost nothing in wit by being excruciatingly true." - CALIFORNIA MAGAZINE

"After witnessing Edwin Harkins and Philip Larson, a.k.a. [THE] ... it is understandable why they'd be the life of any party. Their genre-defying "d'alba" - a cross between performance art and stand-up comedy - was the high point of an otherwise bland program. Unfettered by a score they were free to make music - or was it theater - at times it was a cross between a Bruce Lee short and Devo on TV ... No wonder these guys are hot on the wedding circuit. The fact that they are welcome on new music programs is cause for hope." - SAN DIEGO

"Neo-dada freakiness ... a Beckett-cum-Cage playlet." - CHICAGO

"[THE] created a multi-sensory space that explored the limits of meaningfulness and meaninglessness. And when these multi-zonally packed pieces were combined these limits acquiesced ... Their refined stage performance was joyful and beautiful but serious at the same time. In their performance, coolness of pushing aside objects and toughness of not trusting objects in any sense, might explain our feelings of humor, beauty and sorrow ... reminds us of Beckett's irrationality...They expressed a situation in which parody or irony could not be formed. In fact, on a higher level, this might be 'the irony'." - TOKYO

"The total thrust is toward the creation of a disturbing, absorbing musical - dramatic universe, saturated with the aesthetics of the irrational ... an elaborate interplay of crazy but carefully choreographed and coordinated physical movements." - SAN DIEGO

"At no time will any member of the audience feel deja vu." - SEATTLE

"THE offered entertainment so diverse, unpredictable and defiant of description that only this independence from any identifiable environment remained constant throughout the performance ... Since [THE] was able to create a context in which they were truly separate from their expression, they were allowed to freely and thoroughly laugh at themselves and with themselves. And because the laughter was genuine and not pretentious, the audience was able to take part vicariously, not only in the appreciation of the jest, but in the laughter itself." - SAN DIEGO

"...virtuosic, high-class vaudevillians. Who ... delight in sleight of hand. The confusion between live and processed gives an added edge to what is also very listenable and accomplished music ... John Cage was inspired enough to write a poem about these boys. Here's one stanza: iT's just wHat you nEed." - HIGH PERFORMANCE magazine

"Very funny - a very sophisticated yet also very basic sense-oriented kind of humor that attacks the funny bone like a doctor's knee hammer ... the kaleidoscope of sight and sound was brilliant. We were left with curiousity, laughter and appreciation for the performer's acute sense of timing..." - SAN DIEGO

"The whole evening ...of their celebrated angst-ridden theater works ... was superbly executed down to the lighting cues and it was encouraging to learn that capacity audiences are becoming the rule." - NEW WEST magazine

"[THE] was extraordinary. I don't recall being entertained so thoroughly and so intelligently as I was by their performance. High humor is unfortunately rare and [THEY] gave it generously. The excellent use of technology was heartening. So often it only aggravates or makes heavy whatever it touches. Here it made everything wondrous." - JOHN CAGE

"[THE] is truly wonderful. They jump over a fence of arts with their rare humor and crystal sorrow. This is what we l - a poem." - TORU TAKEMITSU

"The power and beauty of relevant creativity is alive and thriving in [THE] one of the most incredible groups functioning in this period." - ANTHONY BRAXTON

"Harkins & Larson command the skills expected from superb performers, but they do more. They have literally created new performance modes which have excited fresh efforts from composers and new experiences for listeners - skill, wit, intensity and, at times, a unique antic ingredient." - ROGER REYNOLDS

"Harkins and Larson present a smashing program with a sheer virtuosity that is breathtaking. Their artistry with new instrumental techniques and vocal sounds and their exceptional sense of theater transform the merely novel into a richly musical experience." - ROBERT ERICKSON

"So imaginative and surprising, keeping the audience constantly concentrated with eyes and ears wide open." - FOLKE RABE

"The concert was absolutely a marvel of fun and great artistry. I wish other performance people could learn from [THE]." - ALLAN KAPROW

"The splendor of [THE] Harkins & Larson lies in the discovery of the perimeter of music which can only be achieved by these outstanding musicians. This is sense out of non-sense, so-to-speak, and an exposure of a world where linguistic expression cannot reach. This is achieved by using musical sense, temporally and spatially, and non-sense. It establishes harmonious meaning out of a mixture of music, acoustic effects, actions, timing, changes in intensities and gestures - meaningful and non-meaningful." - JOJI YUASA

"This duo [THE], unique in all of the musical world, is a most remarkable experience for any concert goer... [Their] interest in structure, sense of humor, visual and auditory sensitivity, and highly idiosyncratic creative nature has assisted immeasurably in the creation of a body of work which is totally unlike any other... a creative product that is highly polished, fully formed, and just-about-perfect in its sensibility. I can barely contain my enthusiasm for this work." - DAVID FELDER

"The performance duo [THE] (Edwin Harkins and Philip Larson) plays very successfully and cleverly with an audience"s conceptions and misconceptions about what is spontaneous and what is not. Their performances include composed mistakes (simulated unintentional spontaneity), pretense that actual mistakes were in fact composed and intentional unison activities that appear coincidental but were in fact accomplished by secret codes to each other, improvisations which - because of their intuitive understanding of each other - seem pre-composed, etc. The aesthetic experience for the audience is one of appreciating being fooled, or appreciate seeing through pretense, sharing "inside" jokes, or simply being uncertain as to whether the performers are being sincere or mocking. Furthermore, the aesthetic experience for each audience member may be vastly different, depending on that person's prior experiences and knowledge - depending on whether one "gets" the point or gets the hidden (possibly conflicting) subtext, or both. Spontaneity, difficulty, predetermination, invention - which are implicit in more traditional performances are explicitly the subject of a [THE] performance." - CHRIS DOBRIAN

"There are so few great artists who know the intricacies of true ensemble realization, dedicate themselves to the process anyway and treat us to transcendental experience. Harkins and Larson, my God, they do it very well indeed, and embody the essentials of expression down to the last detail (on the road to the highest art). They pay the price and it is well worth it. If you are anywhere near where they are performing, run as fast as you can before they are off and gone, for they have it all together." - ED LONDON

"[THE] is the definite article." - MEL POWELL
[THE] Video
Each of the 31 videos are on average 6 minutes long, and consist of excerpts from 1-5 pieces.
[THE] Audio
| | |
| --- | --- |
| Bach - [THE] | Joan and Charles |
| Shoo-Big | EVI Improv |
| "Only You" Lounge | Rhythm Speech |
| Poetry | Some Tunes - Ed |
[THE] Photos
Get the flash player here: http://www.adobe.com/flashplayer
[THE] Credits
Alan Johnson - Stage Manager and Lighting Design
Bonnie Turpin - Agent and Photographer
George Manupelli - Filmmaker - Golf Film excerpt
Vibeke Sorensen - Digital multimedia and computer animation
Deborah Kavasch - vocalist, EVT
Linda Vickerman - vocalist, EVT
Bill Brooks - Composer, vocalist, EVT
Kenneth Gaburo - Composer
Joji Yuasa - Composer - "Observations on Weather Forecasts"
Pauline Oliveros - Composer
John Cage - Composer
Toru Takemitsu - Composer
Anthony Braxton - Composer
Ed Emshwiller - Composer
David Evan Jones - Composer
Ken Heschler - Video editing
Paul Hembree - Web Design and Video editing
Rex Yuasa - Japanese Language
Jack Webb - Chair Designer and Builder
Steed Cowart - Fog Systems
Helen Camp & Archie Noodleman - Walkers
Irene Solomon - Publicity
Paul Tydelski - Recording, Mixing
Joe Kucera - Recording, Mixing
Tom Erbe - Recording, Mixing
Joan La Barbara / Charles Amirkhanian - Radio Announcers
Durand Begault - Pianist - "My Funny Valentine"
Peter Farrell - Cellist - JS Bach, Cantata 43
Brian Ferneyhough - Rhythm Speech Excerpt
Ed London - Composer of "Only You"
Warren Burt - Filmmaker / Musician
Ralph Chaney - Video
UCSD & UCSD Music Dept - support since 1972
Demo Lady
Mar-Tie
Lee